article>

Internationals
Recipes of the Month: Fuel for the 'Blok'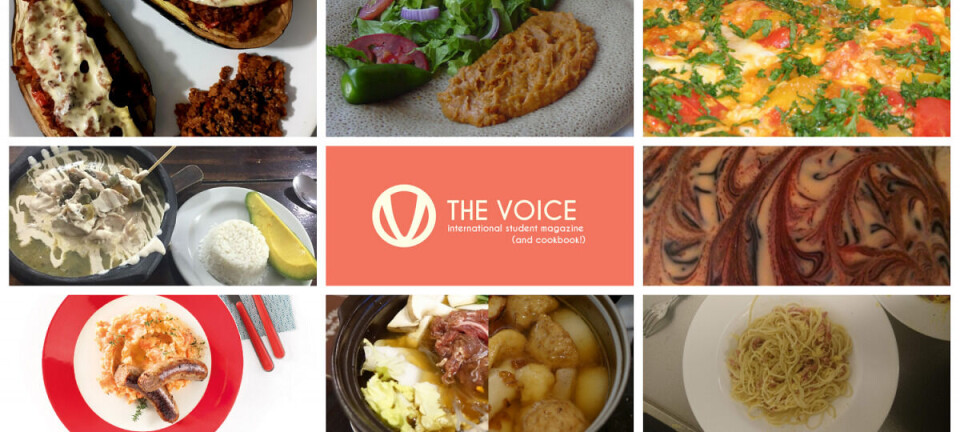 If you're still pulling your hair from all the stress of studying, check out this month's recipes!
Archives from The Voice
The Voice is the student newspaper run by internationals at KU Leuven. Between 2018 and 2022, The Voice published articles on the Veto website under the The Voice section, combined with translations of Dutch Veto articles. After 2022, the section was renamed to Veto English. Since then, the section has been operated by Veto English staff only.
It is no secret, a good meal will nurture your motivation to get things done. This is especially important in this somber period called the 'blok'. This was for us, a reason enough, to gather recipes which are easily prepared and healthier than a Pizza-Nalu diet.

We are again very happy to discover dishes from all over the globe and, of course, Belgium! From a spread containing 'Iraq's arguably better black gold' over unveiling the secret to prepare a REAL carbonara sauce (without cream!) up to a Colombian medicine to cure you from your next hangover. Moreover, the Ethiopian shiro and Bulgarian mish-mash seem easy to prepare and a delicious way to end a long day of studying. We have also received a traditional turkish recipe, which mean if translated properly to 'severed stomach' (spoiler alert: nothing related to haggis) and a fusion cuisine recipe for an 'ultimate combo soup' combining a Chinese style hot pot with a Japanese style Oden. As for a Belgian dish, a notoriously good cook submitted us his recipe for preparing a wortelstoemp: a savoury Belgian experience to get through the blok.
Happy new year and successful exam preparations,
The Voice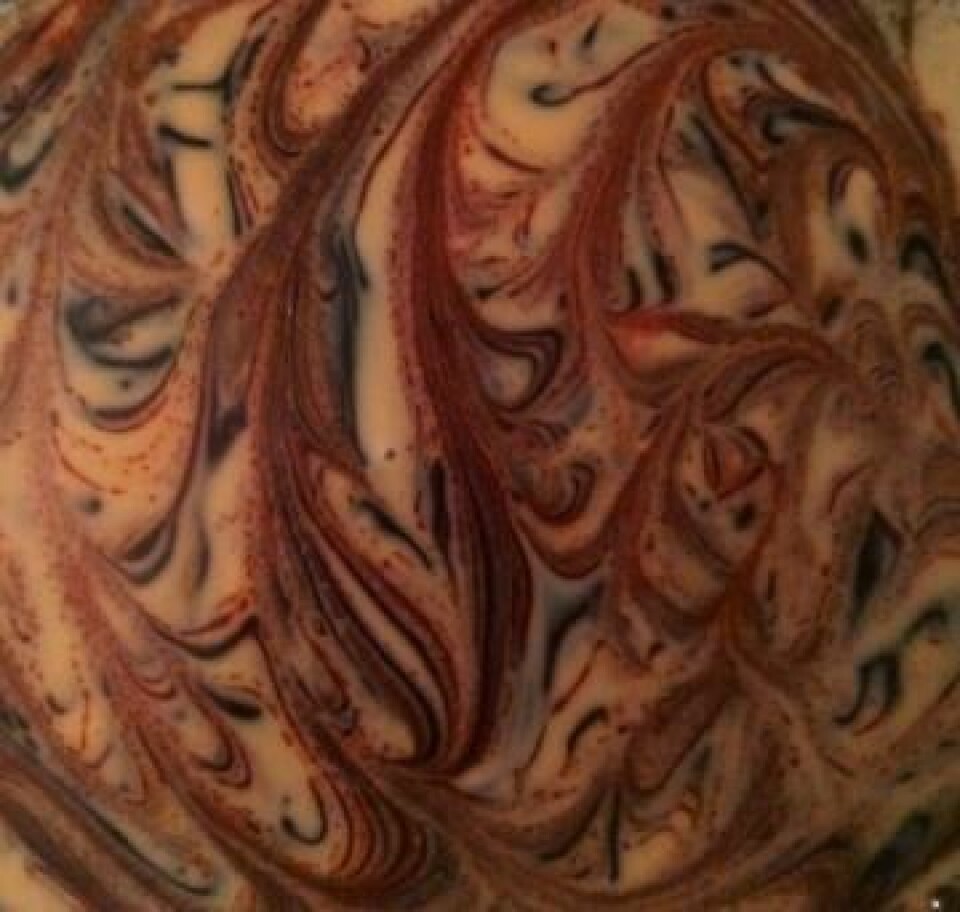 Dibis w Rashi

by Fatimah Al-Gburi
Vegan date syrup and tahini dip
from Iraq
Tahini and date syrup are staples in every Iraqi household. It was only a matter of time for this delicious combination to be discovered. It is especially popular during the examination period, and the winter because of its energy boosting qualities. I would recommend having it with some tea. You don't have to worry about this dip going bad. It can last as long as your tahini lasts in the fridge.

I find it a shame that not many people know about date syrup. It is Iraq's arguably better black gold.
Ingredients:
- two tablespoons date syrup
- two tablespoons tahini
- bread
(The ingredients can be found easily in your nearby middle-eastern store)
Recipe:
I personally like to mix equal parts date syrup and tahini. So, about 2 tablespoons of each. All ratios are valid, though. If you want it sweeter then put more of the syrup, and vice versa.
__________________________________________________________________________________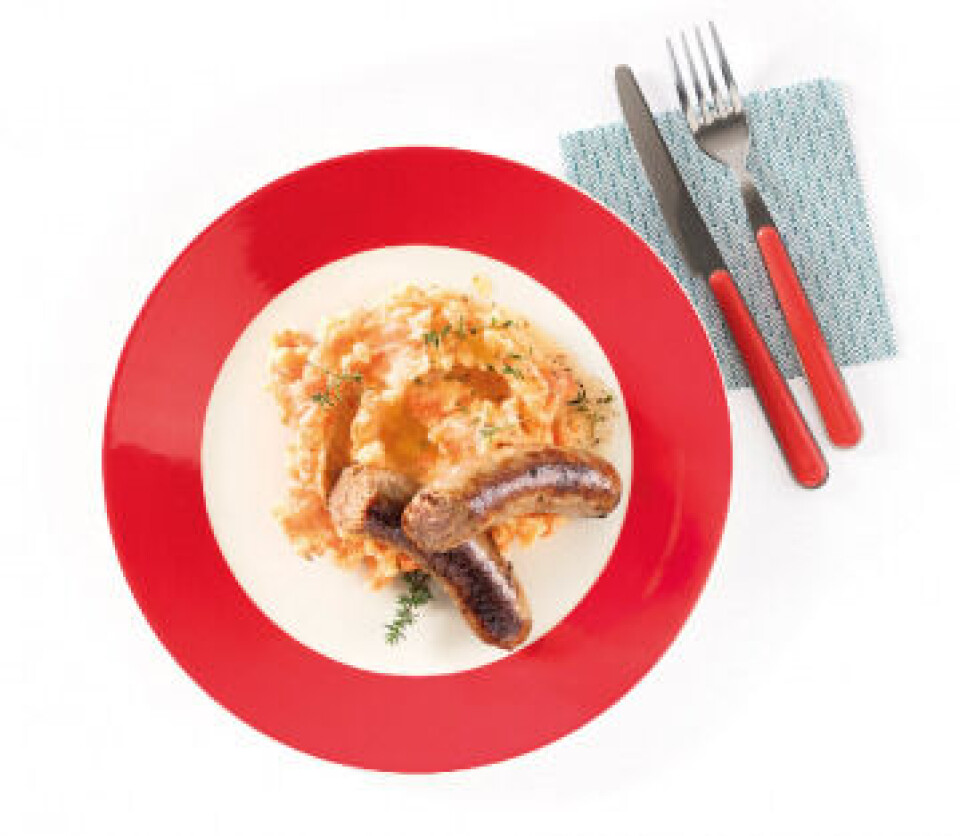 Wortelstoemp met worst

by Tuur Kennis
Belgian meal with sausage

from Belgium
I think every child growing up in a traditional Belgian household has had this dish in their lives. Parents would always say this dish would help with your sight because there are carrots in it.

Ingredients:
- 600 g carrots
- 800 g potatoes
- 2 large onions
- Butter
- Milk
- Pepper
- Salt
- Nutmeg
- 4 Sausages / chipolata
Recipe:
Step 1. Bring two large cooking pots with water to a boil and salt your water. In the meantime you can peel your potatoes, carrots and onions.
Step 2. Cut your potatoes in quarters and put them in the boiling water for 15-20 minutes. While your potatoes are boiling, cut your carrots into discs and put them in the other pot of boiling water for 10 minutes.
Step 3. Dice the onions and put them in a frying pan with some olive oil or butter. Stir-fry them until they turn brown on a medium heat. Once they turn golden/dark brown put them aside.
Step 4. Once the potatoes and carrots are done, drain them and put them together in a large empty cooking pot and start mashing them with a hand mixer or potato masher. Add a few large chunks of butter and then start adding milk little by little until it reaches the consistency you like your soup. Now add your browned onions and season to taste abd don't forget to stir it well. Put the lid back on the pot to keep it warm.
Step 5. Put a frying pan on medium heat, add butter or olive oil and start baking your chipolata/sausage. Cooking time will depend on heat and thickness of your sausage. Estimated time is around two and a half minutes on each side, but you can easily test by cutting one open.
Step 6. For the homey feeling, serve your food by putting the cooking pot with wortelstoemp and the frying pan with the sausages on the table. Everyone can serve themselves.
__________________________________________________________________________________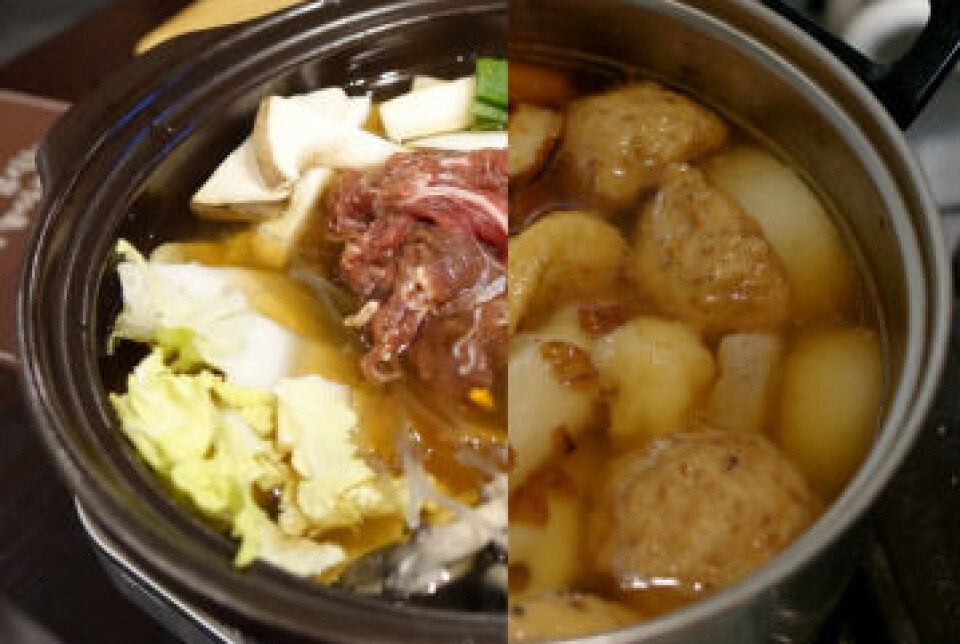 Ultimate combo soup

by Ying Chen
Fusion cuisine: Hotpot (left) and Oden (right)
from China and Japan
This combo soup is a mix of Chinese hotpot and Japanese Oden. It is my must-have cuisine in winter. Daikon (white radish), known as the "cheap ginseng", boasts for a high nutrition value. It is one the most popular winter vegetables in east asian countries. The soup is very healthy and simple, no oil, no added sugar, only very little salt and soy sauce. The natural infusion flavor is entitled only by the combo of vegetables.

Ingredients for 3-4 students:
Soup base / broth:
- 1 Daikon (white radish, bought in Carrefour Heverlee)
- 2 carrots
- 1 apple
- 1 fennel
- 1 onion
- 1 fresh ginger
- 5 shiitake mushroom
- some wakame seaweed
- soy sauce
- salt
Main ingredients:
- Chinese cabbage
- firm tofu (any tofu varieties, check the Chinese supermarket)
- fresh maize, sweet potato or potato
- fish cakes/balls (bought in Circle or other asian supermarkets)
- scampi/beef carbonnade (if you are non-vegetarian).
Be brave to design your own combo. Tomatoes, aubergines and cucumbers are not recommended since they will disturb the taste.
Recipe:
Step 1. Soak the dry shiitake mushrooms with water until they are soft and juicy, keep the water
Step 2. Peel the daikon (white radish), carrots and cut them into thick slices, cut the apple into 4.
Step 3. Put all of them in to a big pot, add 3L water and the wakame seaweed, 2 fresh ginger slices and half fennel bulbs .
Step 4. Boil the soup for 10-15 minutes, and then stew it for minimum 30 minutes only until the Daikon is melted.
Step 5. Remove the apple and fennel.
Step 6. Add soy sauce (10-20 ml) and 2 teaspoon of salt (~adjusted personally).
Step 7. Add all the main ingredients into the soup and boil the soup again for 10 minutes and then stew it for 20 minutes.
Moreover, you can reserve some soup for making noodle soup. The sweet potato noodles can be an option if you like chewy taste.
__________________________________________________________________________________
Carbonara

by Cristina Costamagna
Spaghetti with carbonara sauce
from Italy
Carbonara is THE Italian Pasta for me, I love it so much! It is easier than one might expect to cook and quite quick, but super tasty. It can be eaten with whoever you want and whenever you want, so perfect!

Italians are very strict on their national dishes, so hope nobody will hate me if I'm not too precise, but I think the recipe will be good enough to eat a proper Italian meal for one night!
Ingredients for 2 students:
- 200 gr of your favorite shape of pasta
- 100 gr of guanciale (it is a typical Italian meat, you can use bacon if you can't find it!)
- 2 eggs
- salt
- pepper
- pecorino cheese
Recipe:
Prepare the sauce while cooking the pasta:
Step 1. Dice the guanciale and and fry it with its own fat until turns golden and a bit crunchy
Step 2. Beat the eggs in a bowl and add pepper and part of the cheese
Step 3. Once the pasta is cooked drain it and add it to the guanciale, finally pour bowl over it
Step 4. They should not really get cooked, but remain creamy. Serve it adding pepper and cheese as you want!
__________________________________________________________________________________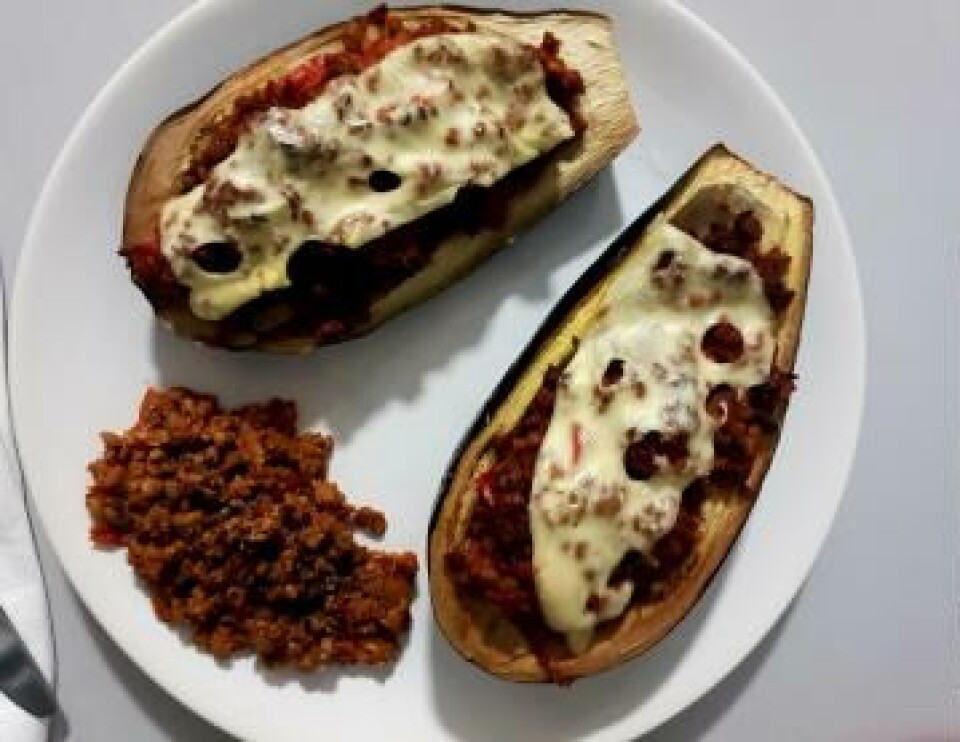 Karnıyarık

by Ebru Kızılkaya
Stuffed eggplants
from Turkey
Karnıyarık is a classic Turkish dish which has its origin from Ottoman Empire and means severed stomach. You can definitely impress your Turkish friends, if you learn how to cook Karnıyarık with my easy recipe. Last but not least, it is best to eat it with Turkish yogurt or Ayran.

Ingredients for 1-2 students:
- 1 Eggplant
- 200 g minced meat
- 6 Cocktail tomatoes
- 1 Onion
- Olive Oil
- Salt and sea salt
- Pepper
- 1 pod of chili
- Cheese (Mozzarella can be a good choice)
Recipe:
Step 1. Preheat the oven to 200°C.
Step 2. Peel eggplant in stripes (like a zebra). Cut it in half and gently open the bellies and keep it for 5 minutes in salty water.
Step 3. Heat the olive oil in a large frying pan and add chopped onions to the pan and fry over medium heat. Add chopped tomatoes and cook for 2 minutes.
Step 4. Add the minced meat, salt, black pepper and chili pepper (if you like it hot) and cook for a further 5 minutes and set aside. (Don't worry the meat will continue cooking in the oven.)
Step 5. Dry the eggplant with a napkin and place it on a baking tray.
Step 6. Sprinkle the insides with sea salt and fill it with the meat filling into the belly.
Step 7. Pour a little bit of hot water over the eggplants and bake them for 20 minutes.
Step 8. At the last minute put cheese on them and watch the melting cheese on your delicious stuffed eggplants. Ready to serve!
__________________________________________________________________________________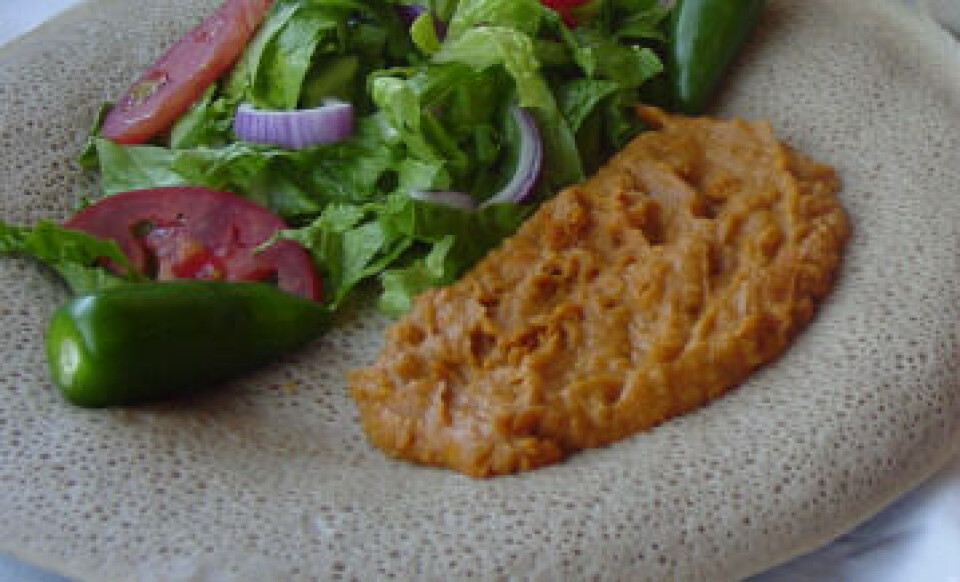 Shiro

by Wossen Balcha
Vegan shiro and salad on injera
from Ethiopia
Shiro is based on chickpeas with spices. Even though being said to be the most boring and common Ethiopian dish, almost everyone in Ethiopia enjoys a good shiro, especially in fasting seasons. It can be eaten with injera, the traditional Ethiopian sour flatbread. Plus, it is known to the cheapest Ethiopian food!

For one person:
- two large spoons of Shiro powder (may be available in exotic world super market)
- one pod of chili
- 1 onion
- 2 tomatoes
- 1 clove of garlic
- ginger
- oil
- salt and pepper
Recipe:
Step 1. Finely chop everything except for the chili
Step 2. Use a deep cooking pot and add 50 ml of frying oil. Fry the onion for a couple of minutes.
Step 3. Add the tomato and fry it for another 3-5 minutes.
Step 4. Add the garlic and the ginger and fry it for about 2 minutes
Step 5. Add 500 ml of water in the pot
Step 6. Add the powder on the water while stirring carefully (doing this before the water boils is helpful to avoid rapid overflow of the mix). Make sure the powder is mixed homogeneously.
Step 7. Let it boil for 7-10 minutes. Stir it once in a while and keep the lead open.
Step 8. Cut the chili in 4 pieces and add it to pot.
Step 9. Season it with salt and remove the pot from the heat.
__________________________________________________________________________________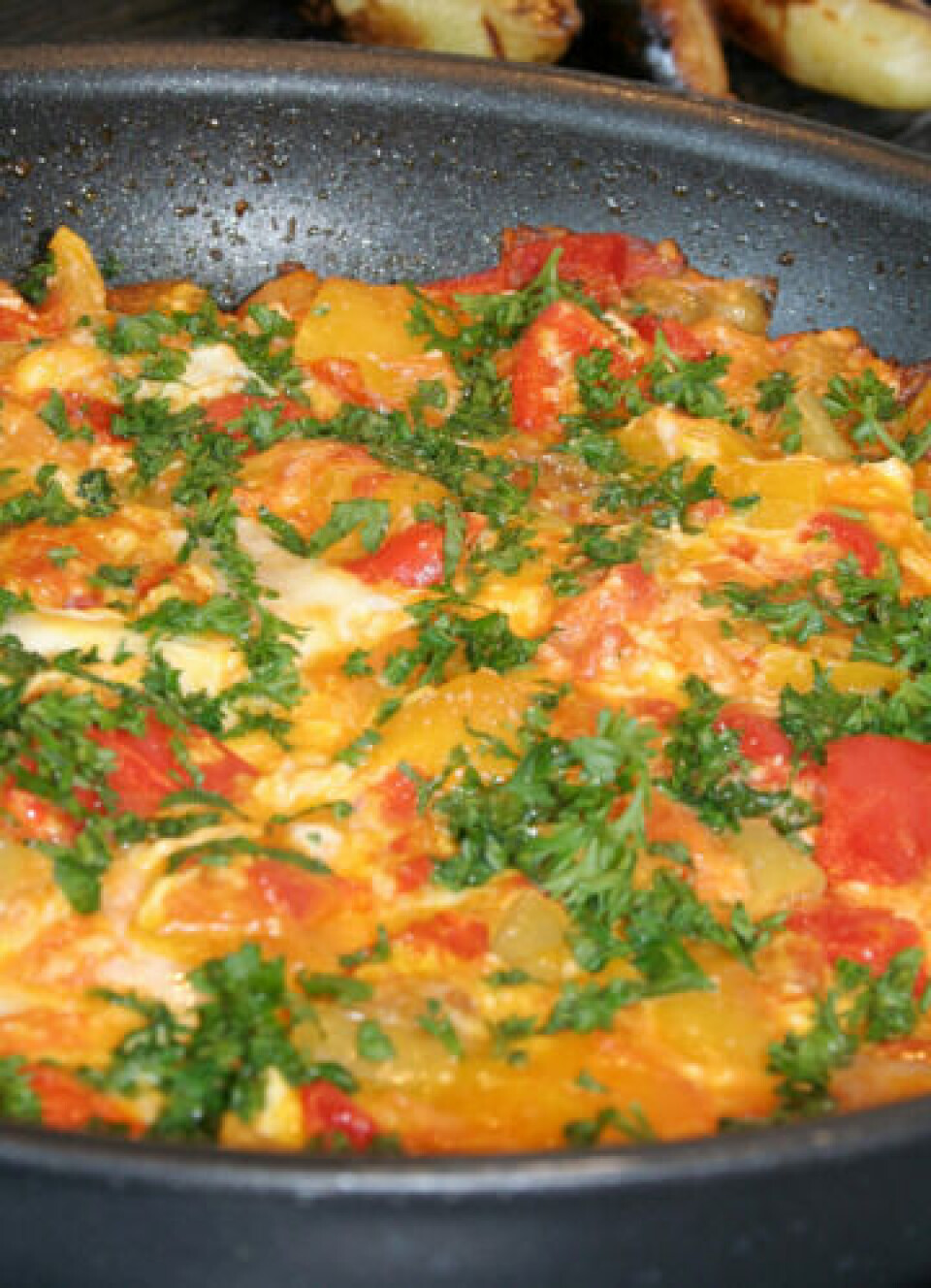 Миш-маш

by Georgi Ganchev
Vegetarian mish-mash
from Bulgaria

The dish, translated hodge-podge, resembles a lot an omelette but what makes it special for us Bulgarians is the cheese that we use and the veggies that we put inside. It is mostly famous because it's easy to make and it takes only 10-15 minuntes. Bulgarians most certainly will be impressed if you even know about mish-mash. Another good thing about this dish is that it is not seasonal. During spring and summer you can use fresh veggies to prepare it, and during fall and winter you can buy canned veggies and it will have a bit different but still amazing taste!

Ingredients for one-or-two:
- 3 tomatoes
- 3 red peppers
- 1 onion
- 2 tbsp oil
- 200gr cheese, crumbled (feta)
- 3 eggs
- parsley
- salt and pepper for seasoning
Recipe:
Step 1. Chop the tomatoes, red peppers, onion and parsley, crumble the cheese
Step 2. Heat the oil in a frying pan, add the onions and the peppers and cook until onions are golden.
Step 3. Add the tomatoes and cook for additional 3 minutes.
Step 4. Add the cheese and eggs and cook for another 2-3 minutes.
Step 5. Sprinkle with parsley and serve. In addition, it is delicious with toasted bread!
__________________________________________________________________________________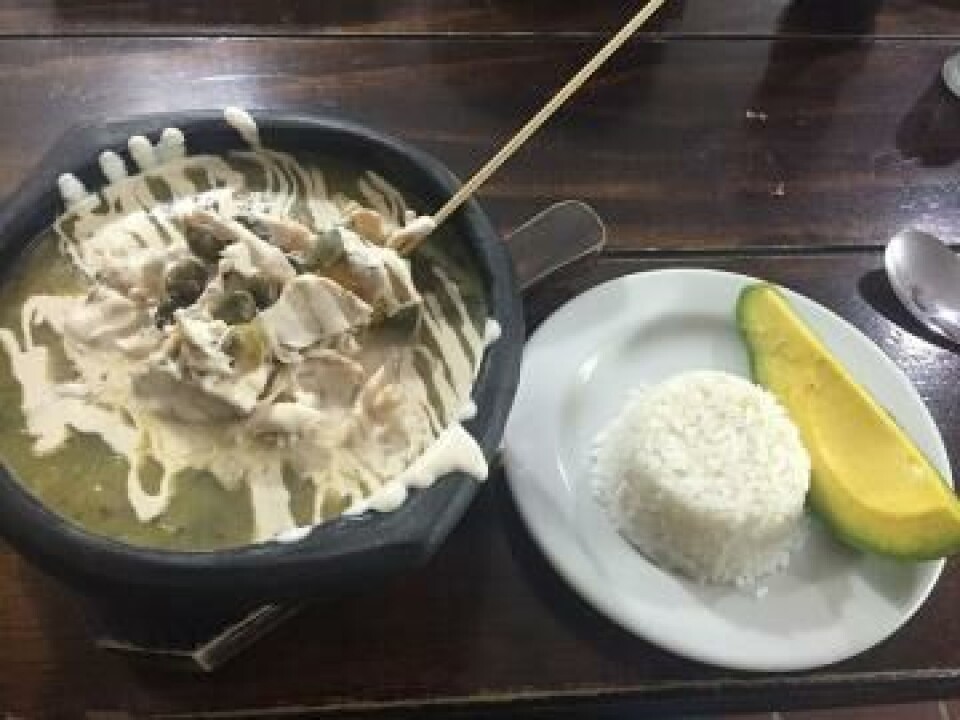 Ajiaco Santanfereño

by Alejandro Correa Rojo
Typical Colombian soup
from Colombia
Ajiaco Santanfereño is a traditional Colombian soup. Although known in the whole country, you can find the best ones in Bogotá City. We enjoy this dish together with family and friends. However, this soup is also famous for being the best medicine to cure your hangover!

Ingredients for a house full of blokker (4 people):
- 1 chicken breast
- 4 cups water
- 1 large white potatoes
- 1 large yellow potatoes
- ~ 22 baby potatoes
- 2 corn cobs
- 1/2 cup cilantro
- 1 large onion
- Salt and pepper
- 1 cup capers
- 1 cup sour cream
- 2 avocados cut into long, thick strips
(You can find most of the ingredients in a local Asian/African grocery store)
Recipe:
Step 1. Julienne the onion, cube the large potatoes and halve the baby potatoes
Step 2. Cook the chicken breast and onions in 4 cups of water in a large pot. Boil the pot quickly and then reduce the heat. Then, let it and simmer for 20 to 25 minutes.
Step 3. After the chicken is cooked, remove it from the water and shred into a bowl
Step 4. Add the corn cobs and potatoes to the water, and cook until thickened, for approximately 15 to 20 minutes.
Step 5. Slice the corn cobs in pieces of 3 cm
Step 6. Season it with salt and pepper
Step 7. Add the chicken to the pot, and heat through for approximately 5 to 10 minutes.
Step 8. Garnish with cilantro. Serve the dish with capers, avocado and sour cream aside and let everyone to add to their personal taste.