artikel>

New student movement TPC wants to unite students from different language programmes
International students band together at Institute of Philosophy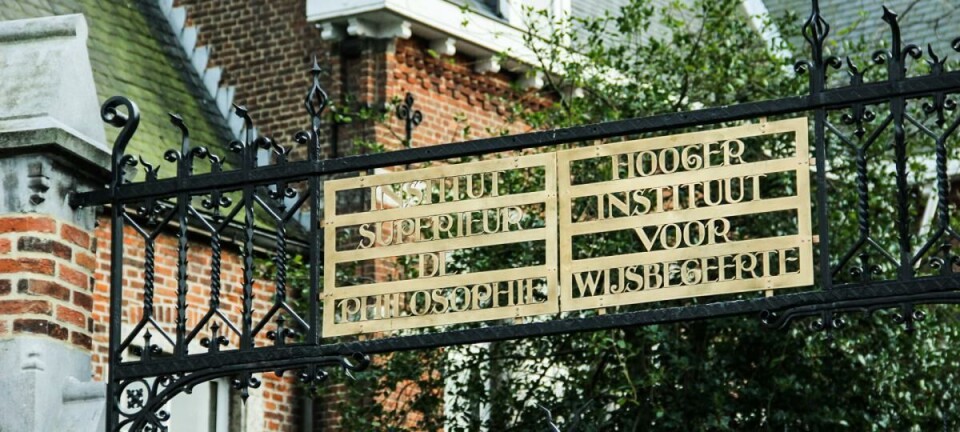 Busy times for philosophy students at KU Leuven. A new student collective is challenging the Nieuwe Filosofische Kring (NFK). 'International students do not have consistent representation'.
Archives from The Voice
The Voice is the student newspaper run by internationals at KU Leuven. Between 2018 and 2022, The Voice published articles on the Veto website under the The Voice section, combined with translations of Dutch Veto articles. After 2022, the section was renamed to Veto English. Since then, the section has been operated by Veto English staff only.
The Institute of Philosophy offers a full parallel English language programme, which contains roughly half of its 939 students. Both local and international students are traditionally represented by faculty student association NFK, which is now facing opposition.
The gap between the student population and NFK is too big, and the Dutch speaking students are overrepresented, critics claim. 'International students haven't felt like they can get involved', says Jack Goldingham, philosophy student in the English programme. Goldingham intends to bring about change with his new movement, The Philosophers Collective (TPC). 'This exact reason is why TPC wants to create a single community before we go forward and do these other representation things.'
In the meantime, rumours about 'the end of NFK' are surfacing left and right. There is no question that the philosophy student association is facing turbulent times. Multiple members, including the praeses and vice-praeses, recently abandoned their positions. The timing of TPC, with its plans to shake up the structure and even the name of the faculty student association, couldn't be worse.
Wouter Termont, president of the governing board of NFK vzw, downplays the problems: 'You cannot underestimate the degree in which there is still a praesidium. The task package and the responsibilities have been redistributed among our members. It is definitely manageable to keep organizing fun activities and to keep representing the student until the end of this semester'.
No representation
Goldingham was a member of NFK in the past semester, functioning as responsible contact for international students. Finally, he failed to find a place for himself. 'When i was on the praesidium I was the only international student and before that, there were maybe two or three a couple of years ago. There's no consistent international representation. 50 % of the students at the faculty are international students. Having one person on the praesidium is not very representative.'
'They [international students] can sometimes go to such events and then you'll see the small group of internationals in one corner, all the rest is local students.' The current structure of NFK is an obstacle, says Goldingham. 'It became apparent that the problems that we were facing and the way we were tackling it wasn't the best way for the situation that we had. The best way forward was to create something new.'
At this moment, it remains unclear how this renewal is to take shape. Both parties want to prevent a situation in which two student associations would function side by side. Gerd Van Riel, dean of the Institute, has similar concerns. 'But I have been reassured by both parties on this topic'.
A new wind
NFK has not been vocal on the issue so far. TPC, in the meantime, has garnered a lot of support, Flemish students included. At this moment, TPC is in talks with representatives of NFK. The governing board has also sent out an e-mail recently in which they inform all philosophy students of current events. 'NFK is aware of the initiative to form a new student circle for philosophy students called The Philosophers Collective. We, the governing board of NFK, want to underline the fact that we are in talks with this initiative, in order to ensure a fertile solution', it reads.
Goldingham, too, has written to the students as a 'president-elect', informing them about TPC and inviting them to a first activity, which is primarily intended to acquaint students with TPC.
'It is quite possible that both parties will form a traditional, single team', Termont says. 'A lot of NFK-members are convinced by the enthusiasm of this new movement within the faculty. It is clear that certain members are attending TPC meetings to make sure they can have their say. That's a positive thing'.
TPC, equally, does not rule out the possibility of a cooperation. Goldingham: 'I wouldn't say there's no competition. But we're still working with NFK to determine what is the best way forward to best represent students in the faculty. Obviously TPC has its goals and aims and NFK has very similar goals and aims. It's just how we go about doing it that's different.'
'I won't rule out us coming together and saying this is what we're going to do in the election as a unified front', continues Goldingham. Still, this would have to be under a different banner. 'I think it is necessary. There is some kind of negative image towards what's going on at the moment. Having a breath of fresh air in all respects is a good thing.'
Termont: 'Apparently, TPC wants to make some drastic changes. This is only possible if they are elected under the current statutes as the new NFK. Only then can NFK be reformed into TPC. To do so, they will have to face a traditional team in an election, but it is as of yet unclear who wants to run for office'.
NFK vzw
The vzw structure of the circle is the main cause for concern now. 'NFK being a vzw has been a real added value of the last few years. Continuity of knowledge and finances has been key', states Termont. 'So we intend to preserve this structure. This is why we hope that there will be traditional elections, after which different aspects of the current structure can be adapted. If TPC does decide to run independently, there is no telling what can happen'.
'The vzw makes sure that the representation is legally arranged and the daily functioning of the faculty circle is supported. If different parties want to survive in the same position within our faculty, combined with the representation in Stura, it will be difficult to extrapolate bits and pieces from what the vzw is now making possible as a whole'.