article>

Leuven Life
On Erasmus, but in quarantine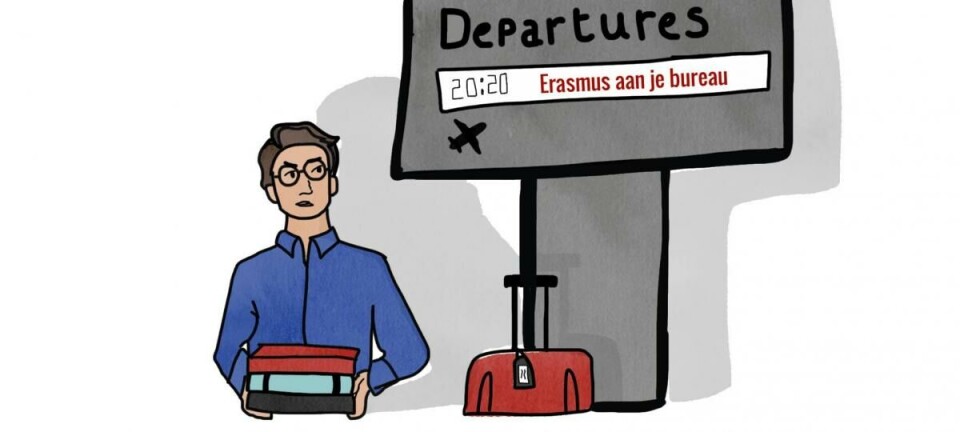 Numerous international students are entering Leuven soil. Some start the semester from their 'kot'. Out of sight, but not out of mind, claim the faculties.
Archives from The Voice
The Voice is the student newspaper run by internationals at KU Leuven. Between 2018 and 2022, The Voice published articles on the Veto website under the The Voice section, combined with translations of Dutch Veto articles. After 2022, the section was renamed to Veto English. Since then, the section has been operated by Veto English staff only.
Originally written in Dutch for Veto by Marie Coppens and Emiel Roothooft
Translated to English & adapted for The Voice by Gwynne van Kaauwen (International Section Editor)
Originally published on September 23rd, 2020
Arriving in the strange Leuven and immediately meeting the city and its university from your own (safe) 'kot' is currently not a rare story. That is the sad fate of incoming Erasmus students from a home country with a red or orange color code. After arrival, these international students stay in a mandatory or voluntary quarantine of two weeks. A lot of faculties support these newcomers, each in their own way.
Mandatory quarantine
At the Faculty of Law about 10 of 85 students are in mandatory quarantine. They are mainly from French or Swiss areas and had to watch the info session through streaming. Also the Higher Institute of Philosophy got the announcement that a few incoming Erasmus students couldn't physically attend the start of the academic year. Professor Pieter d'Hoine, Erasmus coordinator of the institute, reports that only three of twenty incoming students are from green zones.

To lighten the situation a general arrangement was made. 'We expect from our teachers that during the first seven weeks they will completely offer their education off-campus, for those who cannot be physically present in the lecture due to travel restrictions or quarantine,' he says.
The digital path
A lot of practical luggage is being given during live sessions. Each faculty has an online alternative planned for those who cannot be present. The Faculty of Engineering Science chose to not only post its digital info sessions on Toledo, but also on its faculty website.

'The mental impact cannot be underestimated'
Bert Claesen, Erasmus Coordinator for the Faculty of Science
The Faculty of Social Sciences will follow up closely on international through email. 'These are not easy times for the Erasmus students. The mental impact cannot be underestimated, not just for incoming but also for outgoing students.' stated Bert Claesen, Erasmus coordinator of the faculty.

Next to online info sessions, the faculties also walk the digital path. 'For our international programs we asked teachers to offer an online program at least during the first two weeks,' said professor Peter de Mey, responsible for the Erasmus project at the Faculty of Theology and Religion Studies.
Still, there is a lot of uncertainty. Scores from the entire university aren't there yet. 'We asked students to register online. If they don't actively report they're in quarantine, it is difficult to get the correct numbers,' said Peter Lievens, vice rector of International Policy. Professor Peter de Mey confirmed this: 'Some days before the academic year started, about one in four Erasmus students (at the Faculty of Theology and Religion Sciences, red.) hadn't yet informed us about whether or not they would come.'
Non-European students
Remarkable is that the students who remain in quarantine are mostly coming from European countries. That's because many non-European newcomers cancelled their stay in Leuven, partly because of external factors preventing them from travelling. 'A lot of non-European universities have decided to suspend their mobility,' said Kathleen Monsieur, student advisor for incoming exchange students at the Faculty of Economics and Business.

Postponing turns out to be popular. Professor de Mey (Faculty of Theology and Religion Studies) mentioned that at the moment already fifteen of 107 students postponed their Erasmus to the second semester.
'Meanwhile, many students can already move freely'
Pascale Conard, Erasmus Coordinator for the Faculty of Engineering
Next to cancellation and postponement there is a third option to avoid the mandatory quarantine; arriving earlier. Some Erasmus students came earlier to Leuven than expected. Because of this, the amount of exchange students in quarantine at the moment remains limited at the Faculty of Engineering Science. Erasmus coordinator Pascale Conard said: 'Many students can already move freely by now.'
Social activities
Next to university life, incoming Erasmus students miss out on social activities as well. Faculties and student associations thought deeply about initiatives to compensate for that. 'We will repeat the city walk, to make sure they will also get the chance to meet others. After that they can simply join the currently planned activities,' Cedric Verlinden states, student representative of Ekonomika.

The 'Orientation Days', the starting days organised by Pangaea, were spread out over three weeks. According to a spokesman of Pangaea, a majority of the quarantined students joined the online sessions and game nights.