article>

International
Meeting the Flemish: A Few Anecdotes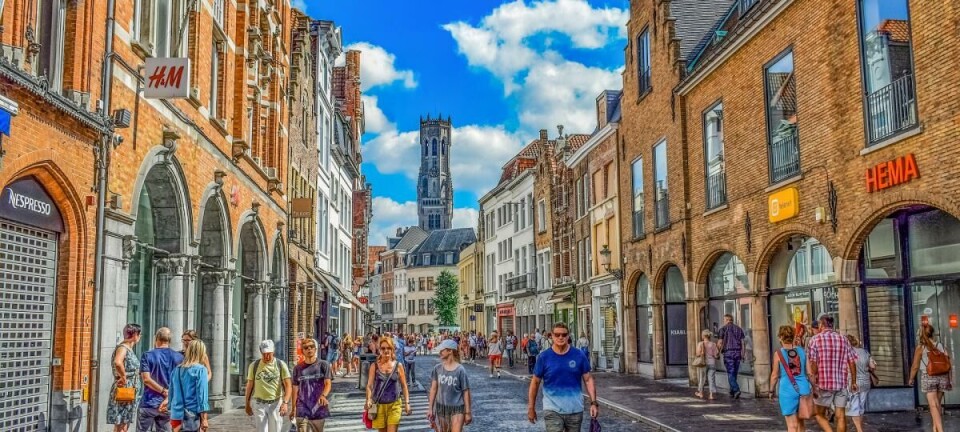 What do you do when you meet a Flemish person?
Archives from The Voice
The Voice is the student newspaper run by internationals at KU Leuven. Between 2018 and 2022, The Voice published articles on the Veto website under the The Voice section, combined with translations of Dutch Veto articles. After 2022, the section was renamed to Veto English. Since then, the section has been operated by Veto English staff only.
by Seyhan Kâyha
International Editor
I could imagine little about what my encounters with locals would be like before my arrival in Leuven as an international master's student in Bioscience Engineering. During Orientation Days we were told several times that the Flemish might be awkwardly reserved and if we were lucky, we'd have a friend or two by the end of the semester. But we were also told we should not be surprised if they invited us to their Christmas party. On the very first night of my arrival, I walked around the city center. I was eager to avoid the Septemberkermis and sought a quieter place to "arrive mentally". I spotted Cafe Commerce on Ladeuzeplein and it seemed like a cozy place to have a chat. While getting a first impression of the interior, six elderly men noticed me entering the bar all by myself. They waved at me, invited me to their circle and mocked me for going to a bar alone. They gave me a very warm welcome to Belgium and treated me as one of their own for the remainder of the evening. Well, literally speaking, the welcome was cold, with a hint of bitterness produced by AB InBev. So much for Belgian reservedness!

A few days later, while visiting friends in Ghent, unfamiliar with the railways, I asked an old lady on the platform which train to take to Ghent. After all, a Swiss person must be punctual, right? Shortly after, we entered the train and sat next to each other on the last seats. We were having a chat when she told me that I will have a difficult time in Leuven because Flemish people are cold and reserved. I laughed and told her that where I come from, it is unlikely to find two strangers talking to each other in a train. This made the couple in front of us chuckle. We had a lovely conversation for the remainder of the journey. Shortly before the train arrived in Ghent, I was invited to the birthday party of the person sitting in front of me. I was amazed: people mingling in bars, strangers in trains having conversations, and moreover, ending up with an invitation to a 50th birthday party (which was a very lovely evening!). One would need a vivid imagination to think of such things happening in Switzerland. It was only my second week and I already had plenty of anecdotes challenging the idea that Flemish people would be cold or reserved. However, I was wrong. I didn't want to be the stereotypical international student who only hangs out with other internationals so I tried to mingle with the Flemish students. Admittedly, a difficult endeavour: some of them have explained that it would not make sense to get to know "the internationals" because they would leave Flanders in two years at the most.

It takes two to get to know someone new. A few times, my appearance has led my counterpart to react in a – to put it mildly– questionable manner. [Note: even though I'm born and bred in Switzerland, some might say I look more like a 'Mustafa' than a 'Hans'. Migration happens, deal with it.] So once, while sitting in a bar waiting for friends, I was having a chat with a random bloke who happened to be a graduate from my faculty. We quickly came to the notoriously awkward situation when he asked, 'Where are you REALLY from?'
- "Zurich"

- "Alé, you mean, Molenbeek?"
- "No, no... Zurich."
- "But, don't you mean Zurich-Molenbeek."
- "No. Zurich."
- "Hahaha, do I need a life-insurance?"
- "Ahm, how do you mean that?"
- "Because, if you detonate your bomb, my family could get some money, héin. Hahaha."
- "Hey, I am not conservative! It's 2018: I'd much rather rent a bus and run over all of you on the next Christmas market."
He couldn't handle my last comment and oozed crappy excuses such as that he was just joking, and moreover, he felt entitled to lecture me about taste. But who would ever considered it as tasteful or flattering to assume someone is about to blow himself up in a bar to spread terror? In my first semester many slanderous comments were directed to me, such as "Muslims are stupid goat-fuckers" or "nothing ever good came from Muslims – it wouldn't bother me if they died and disappeared tomorrow, nobody would miss them anyways." I had a hard time digesting such behaviour and find it particularly strange having these thoughts of outrage here in Leuven, a town which is safe from every danger but bikes.

I usually do not celebrate Christmas the way the People of the Book (the baptised ones) do. Christmas has always been that time of the year when the majority of people around me had their own families and rituals to attend to. Contrary to what my friends thought, the lack of a Christmas party never made me feel like missing something. I spent many Christmas periods taking time for myself by binge watching movies claimed to be cool by the current popular culture, cooking new dishes, and catching up with the "fraction" of lectures I missed in the semester. Of course, on Christmas, like on every other days off, I had a proper kahvaltı with my family (google the images: you've never had a proper breakfast if your table didn't look like this – end of discussion). But this year, for the first time in my life, I was invited to a Christmas festivity. A Flemish friend asked if I'd be up for a Belgian Christmas lunch with her family. Feeling thrilled and honoured, yet still not knowing "how to Christmas", I went to her grandparents' home for the festivity. Her family gave me a warm welcome – both figuratively and literally (with ovenhapjes). Together with her family members, from grandparents to cousins, we feasted on mouth-watering treats such as schorseneren, eggplant-halloumi salad, mashed potatoes (prepared in perfect consistency and later baked with breadcrumbs) and many more dishes. My mind was blown when I was introduced to the dessert: a Speculoos-Tiramisu. It was also the first time I was involved in a Christmas gift exchange. Now I can finally relate to the feeling of overthinking what Christmas present to buy and the excitement of receiving one. They organized a kind of a Secret Santa: the youngest family member chose a present from the pile of nicely wrapped presents next to the Christmas tree and gave it to the person who had correctly guessed his pantomime. From a fidget spinner to a book about organizational psychology, there were a variety of gifts – I, for instance, received a woolen scarf. This Christmas experience was definitely a highlight of my stay in Leuven.
This spectrum of experiences makes it difficult to answer whether I 'like' Leuven. Regarding the reservedness of people here, I realized that I belong a few latitudes more to the South. But as for the friends made, I will not forget their decency, kind-heartedness, and all the precious laughter, joy, and carbohydrates I've shared with them. My advice on how to meet Flemish people: be yourself, be patient and if someone "effs" it up, tell them. Some shall listen and learn but if the person is not willing to respect you and your boundaries, this person is most certainly a waste of your time. Alé jong, succes!